RAPID+TCT 2023 is North America's largest and most influential Additive Manufacturing (AM) event, to be held from May 2nd-4th, 2023, at the McCormick Exhibition Center in Chicago!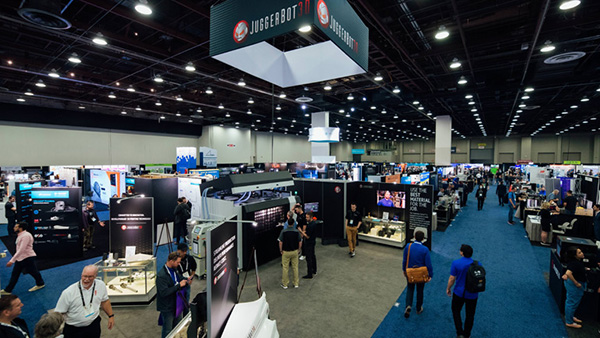 In this year's RAPID+TCT, numerous revolutionary technological innovation achievements will be showcased individually. Participants can experience additive manufacturing solutions in aerospace, national defense, automotive, medical, and consumer goods industries. They can also watch multiple keynote speeches from renowned industry experts to understand the innovation and breakthroughs that additive manufacturing brings to different industries. The technological charm and vitality of 3D printing will be demonstrated in detail at the RAPID+TCT.
As a well-known global brand of 3D printing materials, eSUN will present a diverse range of solutions for 3D printing materials and related industries at booth 5237. Here, we will prepare an interactive exhibition that combines professionalism and fun for everyone. While playing games, we will learn about the appearance and performance of materials. Interested users can also experience customized insoles and share the recent innovation and development of 3D printing materials in a relaxed and enjoyable atmosphere.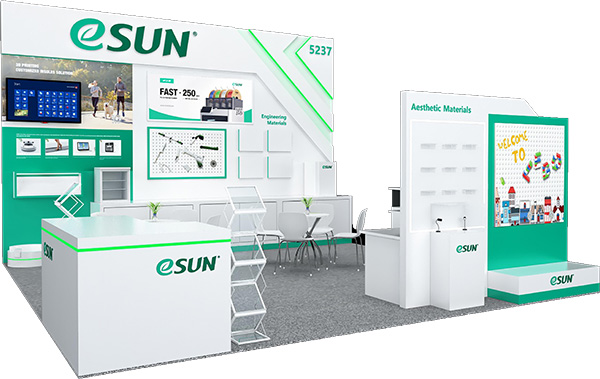 1.
High Flow 3D printing materials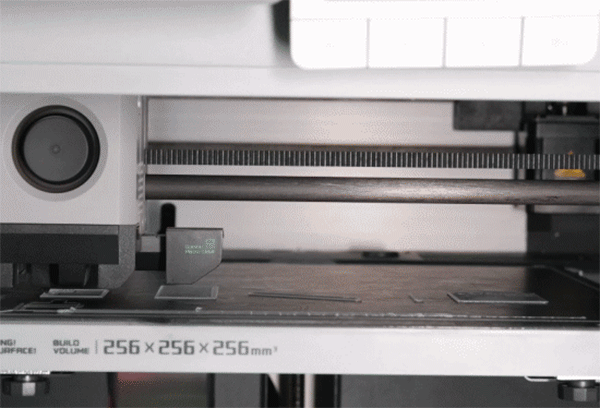 High-speed printing is one of the development trends in the additive manufacturing industry. ePLA-HF material, according to our testing and initial user feedback, combined with fast printing equipment, the printing speed of ePLA-HF can reach up to 350mm/s. In addition, excellent printing quality can be maintained at a rate of 250mm/s on fast printing machines such as Anker, Flusun, and Bambu Lab.
In addition, eTPU-Antibacteria, star product PLA+, PLA-Matte, etc., have also shown good printing performance on fast printing devices based on user feedback. At this exhibition, everyone can experience the performance advantages and characteristics of fast printing materials based on specific models.
2.
Aesthetic 3D printing materials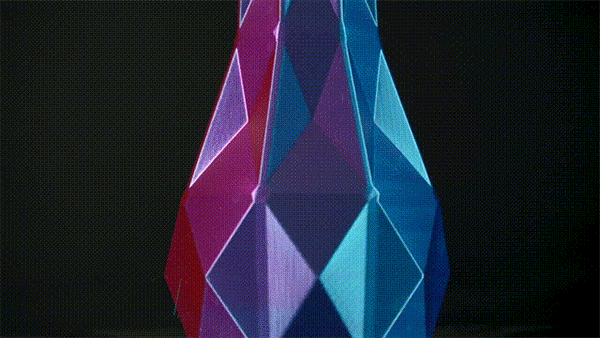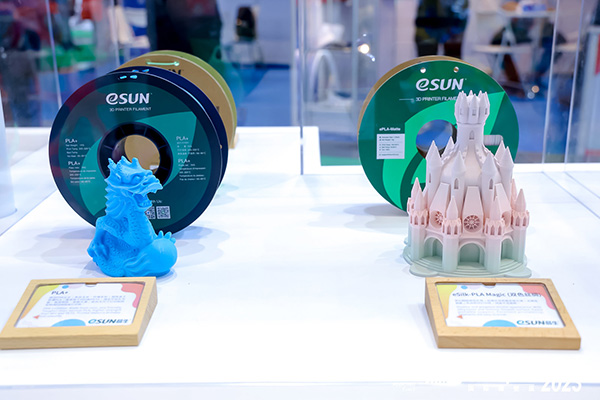 In the aesthetic materials, the focus is on the silk series and matte series. In the years of competition with RAPID+TCT, we have introduced new colors and categories around the silk series materials, such as the eSilk-PLA Magic series and the eSilk-PLA Mystic series. PLA-Matte is a new trend, especially after one-time optimization. It has dramatically improved both in terms of appearance and printing quality.
3.
Engineering 3D Printing Materials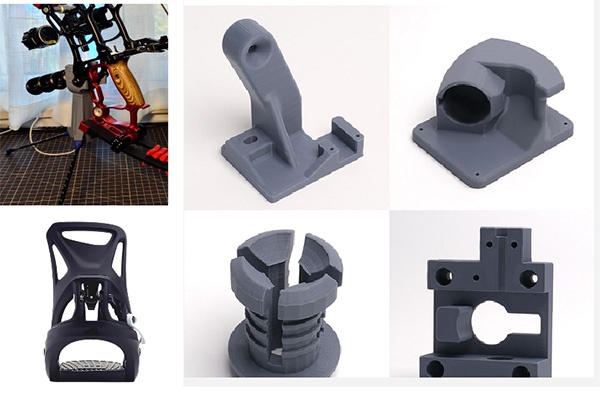 Developing engineering-grade 3D printing materials is crucial for promoting the application and expansion of 3D printing technology. At this exhibition, eSUN will showcase carbon fiber nylon materials, PEEK materials, PLA-ST, etc. Interested friends are welcome to visit and exchange ideas at the booth~
02.Digital Solutions for Dentistry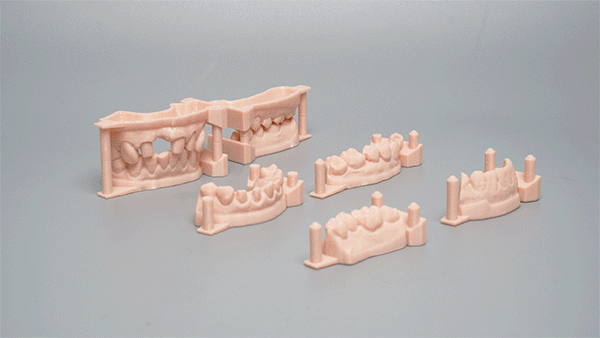 Based on diverse market demands and eSUN's advantages in the research and application of photosensitive resin materials, eSUN has developed digital solutions that comprehensively serve relevant institutions and users in the dental and medical industry, helping to improve medical efficiency and patient experience. At this exhibition, eSUN will systematically display various dental resin materials, providing professional material support for application needs in different scenarios. Among them, various eSUN resin materials have passed the US FDA certification (Class I), and the products have good biocompatibility and low irritation.
03.Foot and Spine Health Solutions
iSUN3D 
Custom Orthopedic Insole System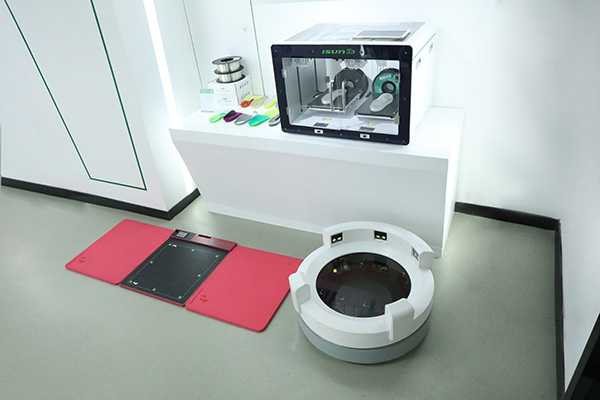 The iSUN3D Foot and Spinal Health Solution – iSUN3D Custom Orthopedic Insole system completed its third comprehensive upgrade in 2022. The newly upgraded iSUN-FLX3 continuous wireless printer has made breakthroughs and innovations in functions, including remote control, remote monitoring, and continuous printing, providing technical support for establishing regional large-scale production centers and making mass cloud printing possible. The iSUN-FLX3 not only retains the high-speed printing characteristics of the previous generation products but also adds remote control, centralized collection, and continuous printing functions, which can effectively reduce labor costs, improve production efficiency, and achieve seven × 24-hour unmanned production.
In addition, the new eTPU-Antibacteria material has excellent antibacterial and mildew-proof effects. The antibacterial rate against Escherichia coli and Staphylococcus aureus is as high as 99.9%, and the mildew-proof grade can reach Grade 0 – mildew resistance.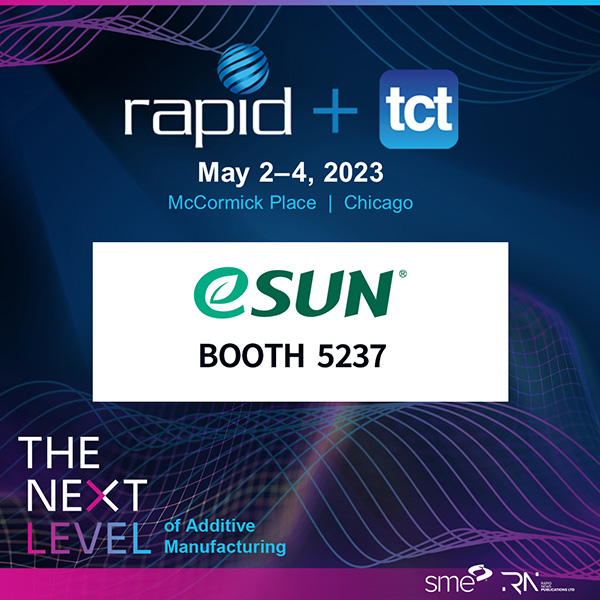 3D printing technology has brought great convenience and breakthrough innovation to the manufacturing industry, and more innovative applications are emerging. Throughout the entire development process, the performance of materials also plays a crucial role. Welcome new and old friends to visit and exchange ideas at eSUN booth at this exhibition. If you have any suggestions on material optimization and innovation, please feel free to give feedback~
---
Previous:
2023 CHINAPLAS | From raw materials to products, what are the highlights of the eSUN booth this time?