iSUN3D is specialized in digital custom orthopedic insoles system ,which integrates "scanning-diagnostic-design-3D printing" technologies. It can provide each customer with a unique customized 3d printed insoles. The system was first launched by Shenzhen Guanghua Weiye Co., Ltd. in 2017. After several updates and iterations, it gradually became mature and systematic. At present,in the field of rehabilitation and orthotics, iSUN3D has successfully established friendly cooperative relationship with global partners.
Recently, Mr. Yang Yihu , Chairman of Shenzhen Guanghua Weiye Co., Ltd., the parent company of iSUN3D, was invited to visit various partner companies,such as Germany, Norway, Belgium etc., which had a full communication on the development trend and prospects of the industry.
1.Pedcad Foot Technology
Pedcad Foot Technology GmbH was founded by Dietmar Walter-Germany orthopedist in 1995.Pedcad has pioneered the digital production of custom orthopedic insoles. Since its establishment, Pedcad has been insisting on combining the practical experience of professional orthopedists to improve the technical level of digital insole production.
In June 2021, iSUN3D signed an exclusive cooperation agreement with Pedcad. This cooperation provides great convenience for the design and production of customized insoles, and can better meet the individual users' request.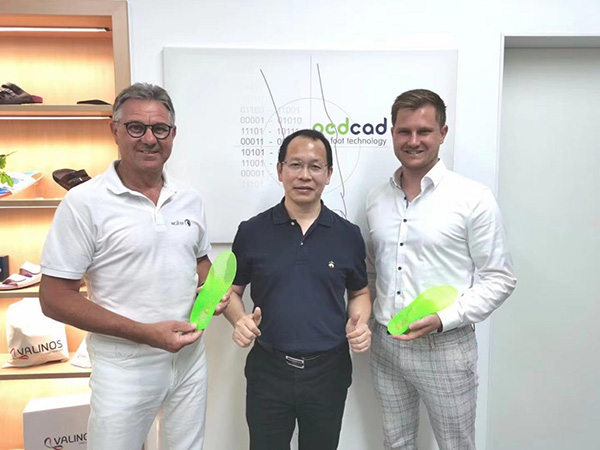 In this offline meeting, Mr. Yang Yihu visited Pedcad's headquarters in Germany.The partner is ull of praise for the iSUN3D custom orthopedic insole system,
They think that 3D printing custom orthopedic insoles have the advantages of fast speed, adjustable hardness of 3d printed insoles, flexible production, no material waste and noise pollution, no need for skilled workers, etc..
They are looking forward that iSUN3D will launch more excellent 3D printing solutions . At the same time, they will also connect the hardware of the iSUN3D custom orthopedic insole system, including 3d foot scanner, gait sensor board,gait analysis software,3d insole printer, to their Pedoffice foot health management software, so that customers can get a better user experience. Both sides expressed their high expectations for future cooperation.
2.Klaveness Footwear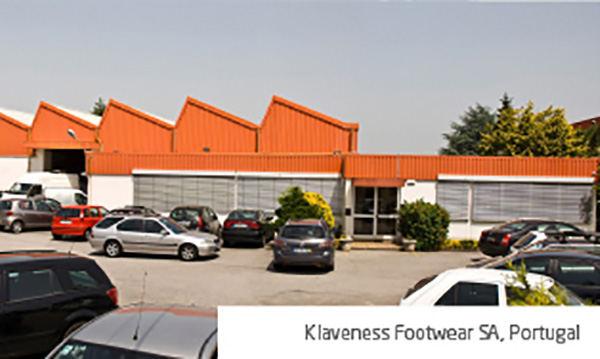 iSUN3D's Norway partner, Klaveness Footwear, was established in 1957 . Klaveness Footwear is a shoe manufacturer. The company's managing director, Bjørn Klaveness, has been actively developing new product concepts and collections for many years, pioneering innovative strategic business areas, markets and target groups.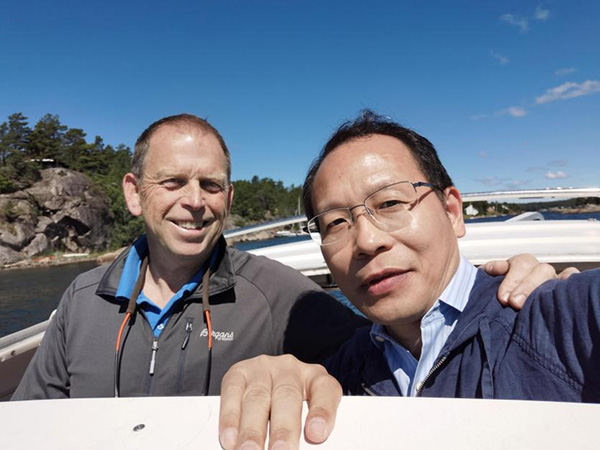 The advantages of 3D printing in customization provide a good opportunity for cooperation between our two parties. At present, Klaveness Footwear is entering the full-foot customization market with iSUN3D scanning module , and is conducting business locally. The two sides will continue to maintain close exchanges and cooperation in the future.
3.GESPODO
GESPODO is a leader in providing 3D technology and services for podiatrists and foot care professionals. They developed Footscan3D, the world's leading professional mobile 3D scanning gait analysis software for foot health. GESPODO stands at the beginning of the digitalization for the podiatry and orthopaedic industries.
Through the establishment of cooperation with iSUN3D, GESPODO's production efficiency will be greatly improved, and it will provide greater convenience for its entry into the French-speaking countries and South African markets.
In addition, iSUN3D will also cooperate with GESPODO to develop special gait analysis software for custom orthopedic insoles design, making the operation process smoother and more intelligent, with stronger design autonomy and better compatibility.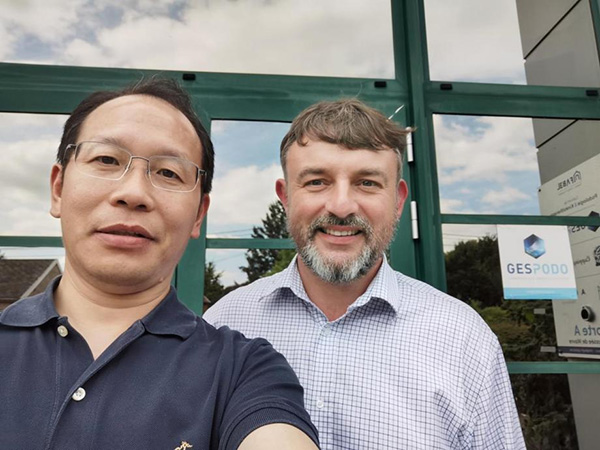 Chairman Yang Yihu also visited the headquarters of GESPODO company and conducted in-depth discussions on future cooperation directions and common goals.
Of course, in addition to the above partners, iSUN3D also maintains good cooperation and communication with customers from worldwide countries , such as the United States, Russia, the United Kingdom, France, the Netherlands, Canada, Singapore, Mexico, Australia, India, and South Korea etc..
Mr. Yang Yihu's overseas trip plan includes countries in Asia, Europe, America and South Africa, which is based on iSUN3D's global business model: global distributed data collection – centralized design service – regional manufacturing layout, and meeting with partners from various countries to discuss localization Services, joint marketing, global joint venture cooperation and other related cooperation matters. Providing strong support for the establishment of iSUN3D brand global service system.
The global foot insoles market is developing rapidly and is currently growing at a compound annual growth rate (CAGR) of 7.50%, it is expected to grow to US$1.41 billion between 2021 to 2025. In such a large environment, iSUN3D custom orthopedic insoles system also ushered in a broader development prospect. We look forward to actively communicating with global partners, fully cooperating, and fully promoting the progress and development of the industry with the support of new materials and new technologies!
Contact us
Tell:0755 86581960
Email:

[email protected]
---